Posted by Kylie Flament on 21 October 2013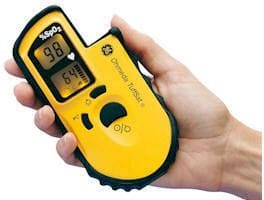 A big thank you (and congratulations) to Rachael and David who had their engagement party over the weekend and kindly asked their guests to make donations to the Heart Centre in lieu of gifts.
The happy couple were hoping to raise enough to purchase a pulse oximeter (right).A pulse oximeter is a special device that can measure a patient's oxygen saturation in a non-invasive and pain-free way. This allows us to see how much oxygen is travelling around the body. Some of our patients have heart conditions that require several stages of cardiac care and surgeries. These oximeters are vital for us to be able to monitor the child's oxygen levels while they're at home between surgeries. This is one of many measures that helps us to plan when the child might require their next surgery.
We need three more pulse oximeters, and Rachael and David's guests were so generous that we will be able to purchase not one but two of these great devices! Thank you all!!!

Author:
Kylie Flament
About: As the manager of the Heart Centre for Children, Kylie is engaged in all sorts of activities to help us deliver excellent care for patients and families through fundraising, managing our finances, hiring good staff and keeping communication flowing.
Connect via:
LinkedIn