Posted by Kylie Flament on 11 February 2013
Two of our little patients shared a special journey with the Heart Centre and became best friends after their third heart operation each. They shared their story with the Daily Telegraph this weekend.
The boys are united in their dislike of blood tests and joke about hiding from the nurses.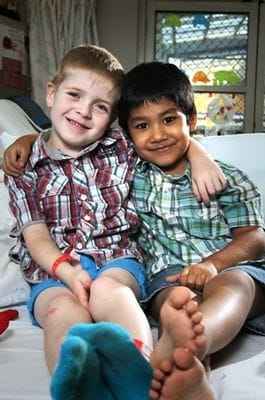 "We did blood tests today," Rijen said, pointing to the Wiggles Band-Aids on his arms. "It didn't work, so we had to do it here; and then a finger prick. It goes all the way inside. It hurts. Sometimes I'm brave."
As a reward for being so brave, the boys earn a "heart bead" for each procedure. They now have mighty necklaces.
The black beads represent lousy days, yellow the good days that are special to the parents, who are so grateful for the work of hospital staff.
They are all like family now.

Author:
Kylie Flament
About: As the manager of the Heart Centre for Children, Kylie is engaged in all sorts of activities to help us deliver excellent care for patients and families through fundraising, managing our finances, hiring good staff and keeping communication flowing.
Connect via:
LinkedIn