Childhood heart disease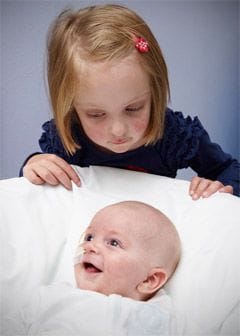 Heart disease is the leading cause of death in infants less than one year old in Australia. Heart problems represent around one-third of all birth defects in children. At the Heart Centre for Children, we're working to bring these numbers down.
From before birth to adolescence
Our work spans pre-birth diagnosis of childhood heart disease, through newborns, children and into the teenage years. For many of our patients and families, (including around two thirds of those who have surgery in the Heart Centre as a newborn, when their heart is only as big as a walnut), their first contact with us is made prior to birth when we are able to make a diagnosis of a cardiac abnormality. Working together with colleagues in obstetrics, we arrange for delivery close to our intensive care unit (Grace Centre for Newborn Care) so that we can provide care as early as possible to prevent deterioration and improve outcomes.
In some babies, major heart abnormalities can only be detected after birth, and some children have heart defects at birth which didn't cause any immediate danger but have become serious over time, or they have developed an abnormal heart function that needs diagnosis, treatment and sometimes surgery. About a third of the patients who are referred to us will need an operation or procedure within their first year of life. For most of our patients, surveillance and ongoing care takes them through their school years and into adulthood. We have special support programmes for all families and we collaborate with adult cardiologists with special training in the care of adult congenital heart disease so that our teenage patients can transition as smoothly as possible into the adult healthcare system while excellence in care is maintained.
Types of heart defects and the search for a cure
Heart defects in kids can be congenital (present at birth) or acquired (developing later in childhood). Almost 1 in 100 babies have congenital heart defects. These may be in the interior walls of the heart, or the heart valves the arteries that carry blood to or from the heart. We have put together some information about some of the most common heart conditions on this website.
In the majority of people, the causes of congenital heart disease are unknown, but our research team is working towards a better understanding of congenital heart disease in the hope that we can one day understand what causes it and prevent if rom occurring. To do this, we are building a DNA bank with DNA both from people with congenital heart disease and those with healthy hearts. This will give us the key to finding a possible cure.