Heart Conditions
There is a wide range of heart conditions that can affect babies and children. More information can be found about some of them here.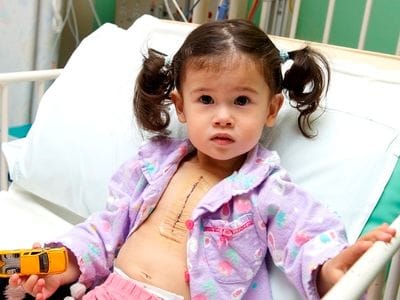 The Normal and Abnormal heart
The heart is a muscle pump divided into 2 sides the right and left. Each side has two chambers, one which collects blood (atrium) at low pressure and one which pumps blood out of the heart (ventricle) and operates at high pressure. Read more here...
How did this happen?
When parents first discover that their baby or child has a heart abnormality, it is common to ask, "Why has this happened?" and "How can I stop this from happening again?" Read more here...
Septal defects
The idea of a "hole in the heart" as a form of congenital heart disease is one of the most familiar in the community. This term is not a technical, medical one, but one that indicates that some form of communication between the two sides of the heart exists when and where it should not. The medical terminology is a "septal defect". Read more here...
Transposition of the Great Arteries
This is not one but several conditions, the common feature of which is that the connections between the heart and main arteries (the aorta carrying blood to the body, and the pulmonary artery carrying blood to the lungs) are abnormal. Read more here...
Coarctation of the Aorta
A coarctation is a narrowing, in this case of the main artery leaving the left side of the heart and carrying blood to the body. Read more here...
Functional Single Ventricle
In some hearts, one of the two ventricles may be underdeveloped, so surgeons work to implement a Fontan circulation. Read more here...
Tetralogy of Fallot
Tetralogy of Fallot is a name given to a type of cyanotic (low body oxygen) heart condition consisting of 4 specific abnormalities. Read more here...
Hypoplastic Left Heart Syndrome
In some hearts, one of the two ventricles may be underdeveloped. In this case the ventricle is considered to be functionally single (and usually receives a mixture of pink and blue blood). In hypoplastic left heart syndrome (HLHS), the mitral valve, left ventricle, aortic valve and first part of the aorta are extremely small or have not developed at all. The right heart structures (atrium, ventricle and valves and the lung (pulmonary) artery) remain intact. Read more here...