Kids Heart BioBank
The Kids Heart BioBank is a collection of DNA samples from individuals who have been treated for congenital heart disease at The Children's Hospital at Westmead. These samples are a critical resource to support our genetic research.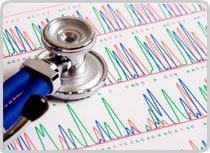 To date, there is still no known cause for the majority of congenital heart diseases. Our research aims to establish links between changes in genes known to be involved in heart development and heart disease. To enable this research we need to analyse DNA from large numbers of patients. We began collecting DNA samples from patients with 'holes in the heart' in 2003 as part of a small study looking into the genetic mechanisms involved in these conditions. In 2007, we set up the Kids Heart BioBank and expanded our collection to include samples from patients with any type of CHD.
All patients affected by any type of structural heart defect, and having treatment at The Children's Hospital at Westmead, can participate in the Kids Heart Biobank. For more information about participation in the Kids Heart BioBank and frequently asked questions, please download our brochure.
Kids Heart BioBank Studies and Collaborations
The samples stored in the Kids Heart BioBank are used in numerous studies aimed at identifying genetic mechanisms involved in heart development and changes associated with congenital heart disease. If you would like to participate in our research or access the Kids Heart BioBank, please contact Kids Heart BioBank via email: SCHN-CHW-HCFCGeneticsService@health.nsw.gov.au or call the Heart Centre for Chlidren on (02) 9845 2345.
Current Studies and Collaborations