Luke's journey with Wolff Parkinson White Syndrome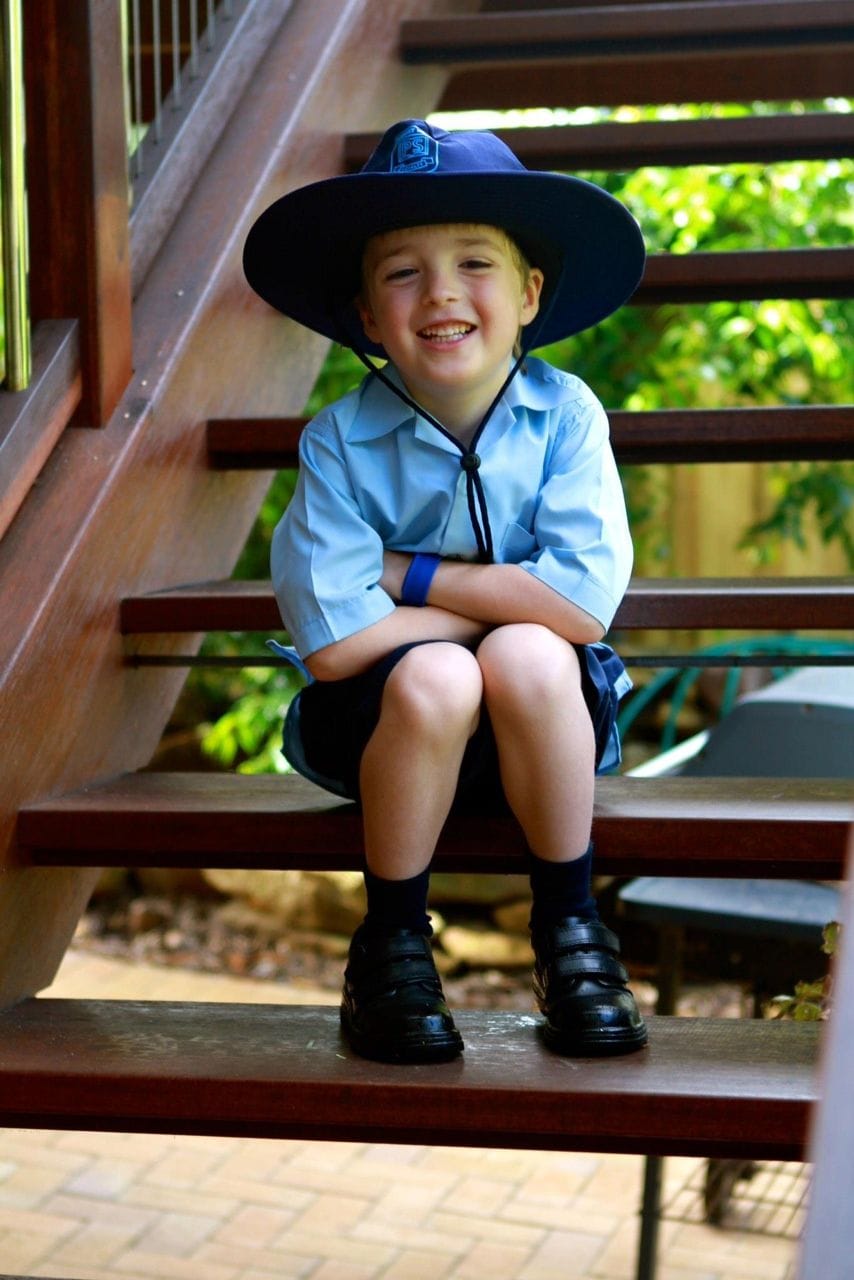 This story was been written by a patient's mother – Luke's mum Cathlin - and sent to us in April 2013. To help clarify some points raised in this brave boy's experience, Dr Christian Turner, a paediatric electrophysiologist, has briefly explained some terms and concepts in the notes section.
Luke was about a month away from turning five when we found out he had a heart condition in May 2012. I picked him up from preschool, where he was running around happily. On the way out of the gate he remarked "I could feel my heart beating today". I thought he'd either been learning about his heart or had been feeling a bit anxious about the preschool photos that were taken that day, so didn't think a great deal of it as he looked so well and calm and happy. When we got home I gave him a hug and I noticed that his heart was racing like crazy. We took him across the road to the GP and after taking his pulse she suggested we go straight to hospital.
When we got to A&E it took us a little while to be triaged, probably since Luke was in great spirits and looked a picture of health. However, once the Triage nurse took his pulse it was panic stations. He was rushed through and multiple doctors paged, and was immediately rigged up to an ECG. His pulse was up to 260 bpm at one point. He was still happy until they put a massive canula in his arm. After ascertaining that his heart rate didn't change with external stressors (such as the canular going in, breathing into a balloon, etc) the paedatrician suggested it was some type of supraventricular tachicardia and indicated that he needed to have a dose of adenosine to basically stop and reset his heart. This was the point where we went from a kind of numb confusion to being extremely stressed. The doctor explained that when adults are given adenosine they are overcome with a horrible feeling of dread as their body shuts down temporarily (see Note 1). Luke, meanwhile, was having a nap with a racing heart beat of 240 bpm!
Prior to administering the adenosine the ECG was hooked up to Westmead so that the cardiologist registrar could see the effect of the drug. Luke had to have two doses of the adenosine before it worked. His heart rate dropped to zero then immediately back to a regular pattern. The relief in the room was palpable.
We were moved to the ward, and as I was 8 months pregnant, I went home to try and rest. I'm not sure who got less sleep - my husband listening to the sound of Luke's heartbeat monitor, or me, being away from him and having to restrain myself from spending all night googling SVTs and finding out things I didn't want to know.
In the morning Luke had a follow up ECG which was sent to Westmead. The cardiologists identified that Luke had Wolff Parkinson White (WPW) syndrome and we were discharged with very little information and a referral to Dr Turner at the Children's Hospital at Westmead.
We were told how to manage any further episodes of SVT (for example, getting Luke to blow up a balloon, pretending to do a hard poo, or to go to the hospital) (see Note 2).
I left with the feeling that while this was obviously not good we could manage the SVT as he had a young heart and the episode he had just had had done him no lasting damage. However, after looking at a few hospital websites (I studiously avoided chat rooms and patient forums) it became apparent that people with WPW syndrome were also at risk of sudden heart failure (see Note 3). The bottom fell out of our world.
We couldn't get an appointment with Dr Turner for about 3 months, so we essentially had 3 months of nervous speculation about whether there was a risk of sudden death, and how large that risk was, and what, if any, treatment options there were. It was probably a good thing we had Luke's 5th birthday, Toby being born the following day, and then a newborn to distract us a little. I would check Luke's heart rate about 10 times a day until he yelled at me to stop.
We finally saw Dr Turner in August 2012. Luke had an ECG and Dr Turner also conducted an ultrasound of his heart to check for any structural abnormalities. Thankfully in that regard his heart was fine. Dr Turner confirmed the WPW diagnosis and at that point everything got better and worse all at once. It was better as we had the facts and the risks and the treatment options very clearly laid out for us and ended the speculation. It was worse because I had been hoping the risk of sudden death was not real (see Note 4).
Dr Turner recommended Luke start morning and evening doses of Sotalol to even out his heart rhythm and reduce the likelihood of another episode of SVT. Unfortunately this would not have any impact on the risk of sudden heart failure. He recommended an EPS and cardiac ablation to correct the condition. This involved inserting catheters into the groin and up through the heart, inducing SVT, mapping the extra pathway, then "burning" this pathway away. He explained that along with the regular risks of having any procedure, this procedure had the added risks of causing damage to the heart's AV node (resulting in the need for a pacemaker forever) or causing a stroke. Dr Turner spent a lot of time with us explaining the risks associated with the condition left untreated versus the risks of the procedure, and it was very clear that having the procedure was the right course of action.
We were put on a waiting list and told it would probably take about six months. We left feeling very numb. All I could think about was the possibility of Luke having a stroke and although that risk was very low, it was still TOO HIGH for my little boy.
The next few months weren't fun. Luke was fine - completely oblivious - but we weren't. We started Luke's school orientation and had to fill in health forms explaining the heart condition. We had to find a compounding chemist who would convert the Sotalol tablets to medicine form. We had another follow up visit with Dr Turner where Luke had another ECG and he explained the EPS/ablation procedure in more detail, and we signed all the awful forms consenting to the procedure.
We were booked in for the procedure at the end of November. Two weeks out we got a phone call saying it had to be delayed until the beginning of February. I was a complete mess. Not only because I couldn't stand more time with this hanging over my head, but also because I didn't want this to interfere with Luke starting kindy. Thankfully Dr Turner was able to adjust some things around and booked us in for the week before Christmas.
We ended up not telling Luke about the operation until the day beforehand so he didn't have to think about it. He was upset until we told him there would be Lego when he woke up and that seemed to fix up his worries.
We had to get to Westmead at 7am. We were admitted into the Children's Hospital where we went through pre-op questionnaires and Luke was given a hefty dose of paracetamol. We were then transferred across to the EPS lab in the adults' hospital. We met the anaesthetist and Dr Turner. Luke was happy until a nurse told him he would have to breathe in a nasty gas that smelt like stinky socks, which caused some tears. I went into the theatre with him while they put him under (the anaesthetist told him to blow up a balloon at the end of a tube which smells like bananas which was a MUCH nicer way of explaining it!). We then had to take some forms to be officially admitted into the adults' hospital. And then we waited.
We got a phone call after about 4 hours and returned to the EPS lab where Dr Turner told us that Luke was fine and the operation was hopefully successful. They had to use a cryoablation catheter (using freezing energy) rather than radiofrequency ablation (RFA) which uses heat energy, as the pathway was in an area where RFA would have been too risky. Thankfully the pathway was not on the side of the heart where a clot arising from this or any subsequent procedure could cause a stroke, and they also found that the pathway was very low risk in terms of causing sudden death, even in the event that the cryoablaltion was not successful. This was best news we could have hoped for! It took ages before we could see Luke. He took ages to come around in recovery, and as it was the adult area they wouldn't let us be there for him when he woke, which distressed me although I understand the reasoning (see Note 5).
It was much nicer once he was transferred back to the Children's Hospital. He thought the bed ride was the best ride ever - better than a ferris wheel or a plane - much to the amusement of the porter. He was happy to lie down and watch TV for a few hours as he wasn't allowed to walk around. When he got up the next day he was fine - no pain in the groin (or the heart). We had an ECG to check that the WPW pattern was gone, and were discharged before lunchtime.
We had the best Christmas ever! He is tackling kindy like a pro! He has since passed the 3 month follow up ECG, and if he gets through the 12 month test he will be called "cured".
We are so very thankful to Dr Turner and the rest of the team for taking such good care of our precious son. Although this was a horrible time for our family, seeing some of the other patients in Edgar Stephen ward really put our experience into perspective, and we have been incredibly lucky.
Questions for Cathlin
If someone could have given you one piece of advice when you first found out about the diagnosis, what would it have been?
I'm not sure that any advice helps in these situations! I only know that people telling me not to worry was useless! I would have liked MUCH more information at the time of diagnosis (between initial hospital admission and initial appointment with Dr Turner).
What has been the most challenging part of your journey?
The most challenging times were the times in limbo - when we knew he had WPW but didn't know the treatment options, and when we knew the treatment options and didn't have a date. It was very hard not to let my imagination run away with me and dwell on worst case scenarios in these instances.
What was one thing that helped throughout the journey so far?
We really appreciated Dr Turner's approach and manner. He was very clear, direct and thorough, and explaining options through a risk-based lens was good for us.
What has been the most interesting or rewarding?
Having a sick child really brings a renewed appreciation of how precious every moment with your family is. After having such a high amount of stress for the past few months I have found I am now much less of a worrying parent than I was prior to his diagnosis. It really puts other day to day problems and worries into perspective.
We also decided to sponsor a child in Nepal with the same birthday as Luke's to try and repay a little of our good fortune following the procedure.
Notes from Dr Christian Turner, paediatric electrophysiologist (specialist in children's heart rhythm)
1: Adenosine is a medicine that is commonly used in patients of all ages, from newborns to adults, treating abnormal heart rhythms. It works by blocking the normal impulse of electricity between the upper collection chambers (the atria) and the lower pumping chambers (the ventricles) of the heart. By causing this temporary "block", adenosine can interrupt a "short circuit loop" that can be the cause of SVT, restoring normal "sinus rhythm" again. The medicine is injected into a vein, and it's effect only lasts a few seconds, before the body quickly breaks it down. It can make children feel a bit sick, but this effect only lasts for a few seconds. (Back to story)
2: There are various "natural" ways that this temporary block can be reproduced by the patient who is in SVT. These are called "vagal manoeuvres". When using vagal manoeuvres in children and infants, assistance is given by adult carers. It is important to talk with your doctor about the various "vagal manoeuvres" that are recommended. Your doctor will teach you how to use these techniques safely. (Back to story)
3: Wolff Parkinson White Syndrome can cause SVT which is an abnormal fast rhythm. Rarely, it can also cause abnormal rhythms that can cause collapse. It is also possible to have the WPW pattern on your ECG and not have any symptoms at all, throughout a lifetime. It is for this reason that children and infants with WPW syndrome should be referred to a paediatric cardiologist to help determine the risk WPW syndrome poses to your child and advise on an appropriate management strategy. A paediatric cardiologist may suggest various tests including an ECG, an exercise ECG test and/or a Holter monitor (24 hour ECG) that can help determine the risk. An electrophysiological study (EPS) may also be recommended to help further gauge the risk the WPW syndrome poses. Additionally, the EPS may potentially be curative. (Back to story)
4: After many decades of observing thousands of people with WPW syndrome it has been realised that there is a risk of collapse and possibly even death as a result of WPW syndrome. At the same time, however, it has also been learnt that this risk is actually very small. Additionally, we have also discovered that not all people with WPW are at risk. Fortunately, we have learnt ways to determine who may be at risk, and thus, this underlies the importance of seeking advice from a paediatric cardiologist as discussed above. (Back to story)
5: Due to the need for specialist equipment and highly trained personnel, at the Heart Centre for Children the electrophysiological studies (EPS) are performed in the neighbouring adult Westmead Hospital. However, only paediatric electrophysiologist cardiologists perform this procedure in children. Additionally, the anaesthetists (there because all children undergoing this procedure have a general anaesthetic) are trained paediatric anaesthetists. The recovery procedure for children in this unit is similar to the procedure for recovery in the children's hospital. (Back to story)