Your Child's Surgery
We know that having a child undergo heart surgery can be a difficult time for the whole family, so we have prepared a Cardiac Surgery Manual that outlines what to expect before and after the procedure. It includes an overview of the staff who will be involved, what to do when you get to hospital, what happens after surgery and things to think about when you're heading home after the operation.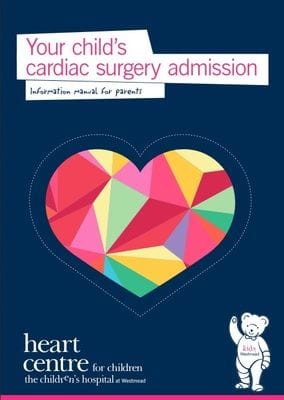 Click here to download a copy of the manual.
If there is anything you are unsure about, please do not hesitate to contact our Clinical Nurse Consultants via our main line, (02) 9845 2345.
Preadmission Clinic
Your child will need to attend the Cardiac Preadmission clinic a few days before their operation. The Cardiac Preadmission Clinic is held in the Heart Centre for Children, located on level three. This clinic provides an opportunity for the team to collect information about your child that will be needed for his/her surgery and use this as a baseline for your child's progress. The clinic also gives families a chance to ask questions about the planned surgery, and become familiar with the hospital environment.
The clinic usually runs for several hours so remember to bring:
Your Medicare card
Snacks and drinks
Toys, books, games or other distractions for your child
(For babies) Nappies, bottles, formula and anything else your baby may need
Tests may include:
An echocardiogram (cardiac ultrasound)
An ECG
A chest x-ray
Blood tests
Height, weight, blood pressure and oxygen saturation
Infection checks
How to prepare your infant for hospital or surgery
Hospitalisation and surgery can be a frightening and overwhelming prospect for children of all ages. As infants cannot understand verbal explanations, preparation ahead of time is minimal. However, recognising what may be stressful for your baby during their stay and using this as a basis for planning can help decrease their fear and anxiety and enhance coping.
We have developed books for children that can be downloaded in PDF format by clicking on the images or links below. These are draft versions while we redesign them, and we are hoping to develop a wider range of similar resources. If you'd like to help, please contact us.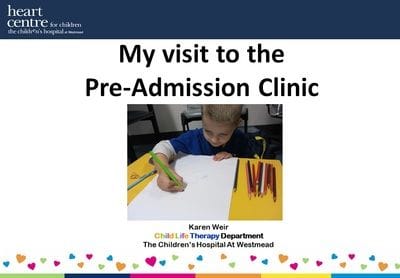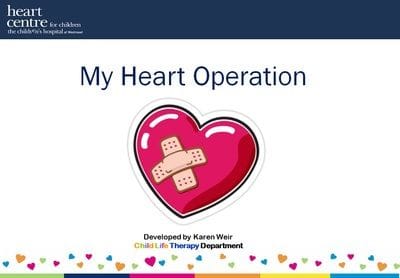 What are the common stressors for infants?
New and different routines
Unfamiliar environment
Separation from parents
Having many different caregivers
Parental stress
What can I do to support my child?
Keep your baby's routine as normal as possible in the lead up to hospitalisation
Let the nursing staff know your baby's usual routine so , where possible, they can follow it
Bring your baby's favourite comforters (e.g. blanket, soft toy or dummy) and some soothing music to create a more familiar environment
Try to organise for at least one parent or caregiver to be with your child as much as possible so that they will have familiar touch, voice and smile.
Nurse or cuddle your baby as often as possible.
If you do need to leave for a period of time, consider leaving one of your belongings, such as a T-shirt or blanket,. Your baby will find comfort in snuggling into something that smells like you.
Your baby will sense if you're anxious or stressed so try to remain calm. One way of doing this is by asking questions and keeping well informed about your child and their progress.
For further information, please contact the Child Life Therapy Department on (02) 9845 3717
Heart Beads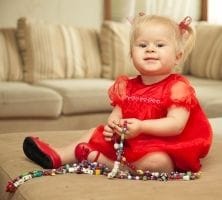 Heart Beads is a programme that was started at the Heart Centre for Children in 2008.
Upon attendance at pre-admission clinic, or admission to the ward, you will be given a brochure regarding the programme and the opportunity to enrol and begin your Heart Beads journey, and you will receive a Heart Beads package with your child's name and date of birth already strung and ready to go. For each procedure, treatment, good and bad day and other milestone, there is a a unique bead which will be given to you to add to the string.
The beads are a great way to trace your child's hospital journey. They provide a tool for children and families to be able to talk about the illness and experience, and to reward your child for their courage.
If you have questions about this programme, please don't hesitate to call our Preadmission Nurse via our reception on (02) 9845 2345.
Breastfeeding after Cardiac Surgery

Please click here for our Factsheet regarding breastfeeding after your baby has had cardiac surgery.
How a Heart Lung Machine works
When we perform cardiac surgery, it is often very difficult or impossible to repair the heart while it is still beating. So our surgeons and perfusionists work very carefully to stop the patient's heart for a while. The perfusionists use a Heart Lung Machine to perform all of the tasks that the heart, lungs and kidneys would normally do. This machine has lots of pumps, transducers, sensors and other technical pieces of equipment to ensure that we can pump blood out of the body, clean it, add oxygen and other important gases and then pump the clean, oxygenated blood back into the body. This procedure is called Cardiopulmonary Bypass. When the heart has been repaired by the Surgeon, the patient is weaned off the heart lung machine and their own heart and lungs take over their normal function again.
The animation below illustrates the main steps involved in an open heart operation and the circulatory support provided by the heart-lung machine. With a few shots of the operating room environment, it also shows how many people are involved in a heart operation - more than 10 people focusing on the child for hours at a time. The animation was developed by Dr Brian Somerville, who leads Sydney company Animated Biomedical, to show what happens.
NOTE: It is suitable for viewing by parents and older children with supervision - there are some scenes showing real heart surgery which might make some people squeamish.