James' story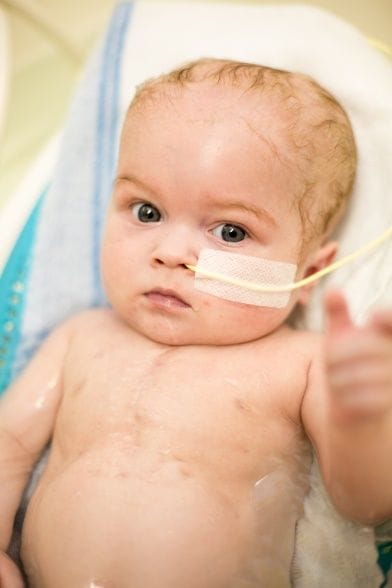 Written by his mother, Katherine, in 2016 for a fundraising event that supported the Heart Centre for Children
At my 20 week ultrasound, I was told that they 'couldn't get a clear picture of the heart'. I knew that was a lie. What I could never imagine was that, in fact, our little boy only had 'half a heart' and wasn't expected to survive his time in utero, let alone his time on this earth. But survive he did.
His birth was the most wonderful time, I think more so because he was here, and even if it was only for a short time, I was going to enjoy my time with my baby. James was born in June 2015 and was taken to NICU at 10 minutes old. I held him for less than a minute before he was on his way to the biggest event of his life. He went in for open heart surgery at 30 hours old, and was away for 9 hours. It didn't go as we had hoped. He bled a lot, and developed a clot which almost claimed his short life.
5 days after surgery, our little boy was hanging onto life through an ECMO circuit. That night he lost one kidney, and we were told to say goodbye as our boy was most certainly brain dead.
After two attempts, James came of ECMO, but remained in PICU for another four months. On the day he turned 4 months old, he went for his second major open heart surgery (and 14th time with the theatre team) for what would be his make or break operation. We were told he would thrive from it, or there would be nothing else they could do. Sending him to theatre that day was the hardest thing I have ever had to do. I was up at 3am the morning of the surgery, just so I could hold him while he was still alive. As he was wheeled into theatre, there were tears from us as parents, and from the nurses who loved James as their own.
Fortunately that surgery saved his life. He was out of PICU 2 days before he turned 5 months old. He went to the Edgar Stephen ward, where he was loved by new nurses, and where he grew into a little boy. He experienced new things, like having an unmonitored bath, going for a walk in the pram, and playing on the floor with his friends. We were on our way to finally being discharged when tragedy struck again. Our family caught gastro. James was sick for days. Then the phone call I had always dreaded. James was in pre-cardiac arrest, and wasn't expected to survive.
We went back to PICU, with a very weak, sick little boy. After another month stay, we were back on the ward, two days before Christmas! James continued to defy the odds, and on 25th January, left the hospital for the first time. We came home to much celebration, however it was short lived. James had a cold. On 3rd February, James went into cardiac arrest. He had another arrest in the helicopter over Mascot airport. On arrival, the team in Sydney expected James to have died.
Against everything, James survived. But the damage to his heart was significant. He was sedated and palliative care was called. James was in end stage cardiac failure. Our little boy was dying. After many discussions, we asked to take him home. We wanted him to pass away in his own bed. On the 3rd March 2016, James left Westmead for the last time.
James has now been home for 100 days. Thanks to the team at the Heart Centre, the surgeons, palliative care, our beautiful PICU staff, the fantastic nurses on the Edgar Stephen ward and our amazing medical team; this is time we were never meant to have. I can never explain how grateful I am to have the expertise and support from these people. They give and give to these special kids more than is ever asked of them. We are forever thankful that they are a part of our lives and have helped James to be with our family. Thank you for supporting this wonderful event. You are helping families like ours, take our babies home.