Ethan's aortic atresia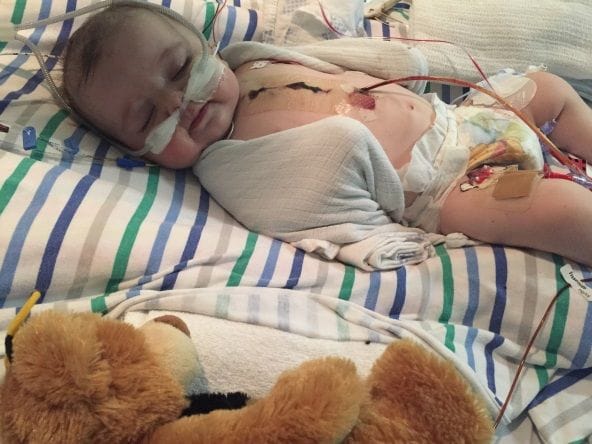 As written by Ethan's parents in 2016
We found out about our baby's heart condition at our 20 week scan two days before Christmas in 2014. Our baby would be born with a rare form of CHD called aortic atresia (the aortic valve & aorta did not form properly). We were devastated to hear this news. However, after meeting with Dr Sholler (fetal cardiologist) we were reassured that there were surgical options and that should our baby survive the first operation there was a good chance that he/she would reach adulthood.
So on 8 May 2015, our beautiful boy Ethan was born at Westmead Hospital. He weighed a tiny 2.99kg. Due to his heart condition he was immediately transferred to the Neonatal Intensive Care Unit (NICU) at The Children's Hospital at Westmead. We did not get a chance to hold him until the next morning which was very tough.
When Ethan was 3 days old he had his first marathon (8 hour) open heart by-pass surgery during which the surgical team (led by Dr. Orr), operating on a heart the size of a walnut, would give him a new circulation to keep him alive. While we knew this surgery was his only chance to survive, it was still very hard to hand him over. Despite the surgery going well he spent a number of weeks in the Paediatric ICU due to serious complications mainly because his internal systems were so immature.
Ethan recovered from these complications and moved to the Edgar Stephen Ward with the aim to establish feeding and ensure that he was putting on weight. However, when Ethan was 4 weeks old he caught a serious respiratory illness (RSV) and ended up back in the Paediatric ICU on oxygen support. We almost lost him. This was by far the worst day for us.
Thankfully he recovered and after 6 weeks in hospital Ethan was stable enough to come home. During this time at home he was monitored twice-weekly by The Heart Centre for Children for any sign of heart failure. This was a critical period for Ethan in the lead up to his next major surgery but he thrived at home and continued to put on weight like any baby.
Just before Ethan was six months old we were told it was time for his second open heart surgery. This surgery, known as the Glenn, was another 8 hour marathon for the surgical team. For us, it was even harder to hand him over to the doctors this time. Thankfully, the surgery went well. While Ethan suffered some complications, including fluid on his lungs and around his heart, he was so much stronger this time and recovered quickly. He came home after only two weeks!
Ethan now only has to see his cardiologist every 6 months and the doctors are really happy with his progress. Ethan is a happy, cheeky and determined baby who loves nothing more than playing with his big brother, Zac. While he will need further major open heart surgery in a few years, we are taking each day as it comes and enjoying every second of him being at home with us. We could not imagine life without our brave little 'superhero'. We will be forever grateful to the team at The Heart Centre for Children for saving our little boy's life.