Louie's open heart surgeries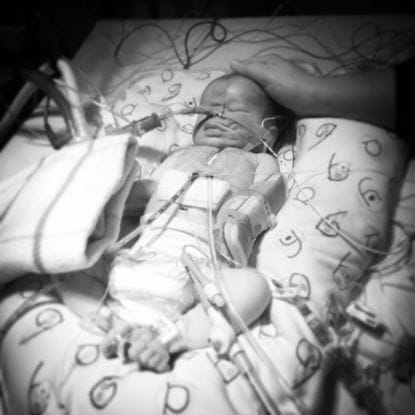 Written by Louie's mother, Lily, in 2016
At our 20 week scan we were very excited to find out that we were having a boy. But this excitement soon turned to shock as we also found out that our baby had a very serious heart condition. Our baby would be born with Tricuspid Atresia, meaning only the left ventricle developed. On top of that, his Pulmonary Artery was too small. We were a given a choice no parent should have to make: carry on the pregnancy or terminate.
On 28 April 2015, Louie was born at Westmead Hospital. I saw him for a couple of seconds as he had to be intubated immediately and transferred to The Children's Hospital at Westmead.
When Louie was 8 days old he had his first marathon open heart surgery where the amazing surgical team gave him a new circulation. Louie appeared to quickly recover from this surgery. However, our joy at his quick recovery was premature as Louie started to deteriorate. It turned out that Louie had a kink in one of his arteries which meant blood flow was blocked. The only way to repair this was another open heart surgery. We were absolutely devastated.
Thankfully, the next surgery was successful and after many weeks of recovery, Louie was discharged from hospital on 7 June 2015. However, our time at home was short-lived. Three days after being discharged Louie developed a bad cough that affected his breathing. After taking him back to hospital, I was told that Louie had caught a respiratory virus called RSV and he would need to be closely monitored with oxygen support. What I (thankfully) did not know at the time was that RSV could have killed him. After 10 days in hospital, Louie was once again ready to come home where he thrived and did all the right things to keep the medical team happy.
When Louie was 7 months old he had his second open heart surgery known as the Glenn. The surgery was scary and stressful but it was successful. Louie had an amazing recovery and we got discharged 6 days post-surgery. 6 days! However, that very first night back home Louie was not himself. I knew something was very wrong. So I rushed him back to hospital where I found out that Louie's wound was severely infected.
The surgeon had to open him up again to assess how far the infection had spread. Thankfully it had not penetrated the bone but Louie required 6 weeks on IV antibiotics in hospital. For the very first time since Louie was born, I was absolutely terrified that we were going to lose him. But once again, our amazing son proved me wrong and, after 7 weeks in hospital he was discharged 3 days before Christmas. It was the best Christmas gift!
While there will be more procedures and surgeries to come, we have faith in our son, the amazing medical and surgical teams, and scientific progress.
Louie is now living a normal life, going to family day-care which he loves. People who meet Louie are astonished with his cheerful and bubbly personality. Despite everything that Louie went through, he is always smiling and happy. My husband, Michael and I are blessed with the most extraordinary little human being.