Ellah's VSD
Written by Ellah's parents in January 2014
Ellah arrived safely on 8th August 2013 weighing a very normal 3.3kg. Having a girl was such a fantastic surprise for us as both our families had predominantly boys. Over the first few weeks a few comments from people in regards to Ellah breathing quickly were mentioned, but having had a boy previously I just thought "well, all babies breathe quickly". At the routine 6 week check-up a few things happened. Instantly the doctors heard a murmur and referred us to Dr Cooper for further tests. The other indicator was that in the 6 weeks since her birth she had only gained 400 grams.
When we met with Dr Cooper, he explained very clearly that Ellah had a moderate 5-6mm VSD hole that he believed would not close on its own. Dr Cooper decided to put her on daily diuretics to try and reduce the fluid on her lungs, aid in the pressure difference between the ventricles and wanted to reassess her in another month. After another month, unfortunately the size of the hole hadn't reduced and it was decided we needed to have her booked in for surgery with Dr Winlaw prior to Christmas but would make one last reassessment two weeks prior to surgery.
We walked away from that consultation with very mixed emotions. Were we doing the right thing? Did she actually need surgery or would the hole close on its own? Were we putting our child at risk? We met with Dr Winlaw who reassured us of the high success rate of this procedure as well as informing us of the risks involved. In weighing up our options, we decided the benefits of surgery outweighed the underlying risks. In addition. We knew that the paediatric cardiologists at The Children's Hospital at Westmead were amongst the best in the world, so in the end we felt that surgery was the right thing to do.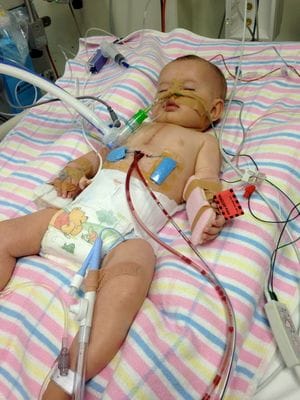 Prior to the operation date we attended the pre-admission clinic where all the pre-operative procedures were conducted, including x-rays, blood tests, an ECG and a health check. These tests were carried out with friendly efficiency and the staff were extremely accommodating.
On the morning of the procedure we drove to the hospital in complete silence rethinking again whether we were doing the right thing. I guess by this time it was a little late to change our mind and thank goodness we didn't.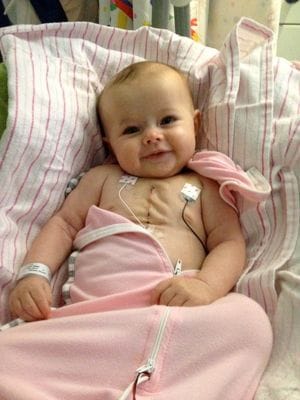 The surgery was an anxious 3 hours, at the conclusion of which Dr Winlaw came out to confirm that the procedure had been textbook which was a great relief. After 24hrs in intensive care, Ellah was transferred to the Edgar Stephen ward where we spent the next 5 days. Thankfully, Ellah went from strength to strength. Each day it seemed another tube was coming out and we were getting back to normality. Her progress was so routine that we could see the real possibility of leaving the hospital before Christmas. Throughout the ensuing 5 days, she underwent a few x-rays to check the fluid around her lungs and heart, blood tests and an ECG, all of which confirmed that the procedure was very successful.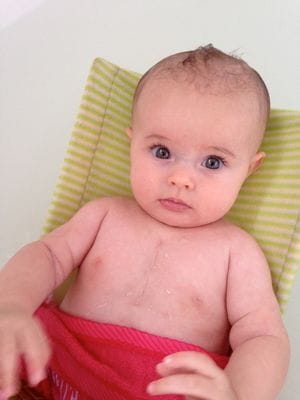 We were so fortunate that we were indeed discharged on Tuesday 24 December 2013 and were able to spend Ellah's first Christmas at home with our family. Subsequent to this we have seen a gratifying improvement in her appetite, resulting in an increase of 500g in the first two weeks since the surgery. Ellah now has more energy, less breathing difficulty, easier feeding and far less fluid on her lungs.
We are so grateful to the team at The Heart Centre for Children for their professionalism and world-class treatment of our daughter. Ellah now can expect a long and healthy life as a result of this procedure.
We are fundraising to support the work that they do, and would appreciate your help. Click here to donate now.