Chase's HRHS and Pulmonary Stenosis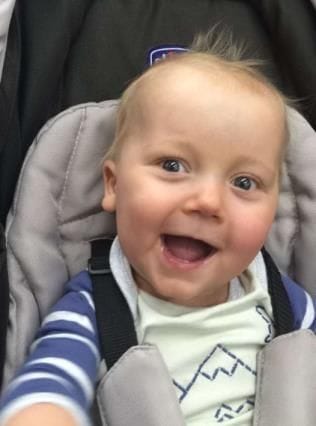 Written by Chase's parents, Matt and Elise, in 2016
Chase's start to life has been a rocky one. At an 18 week ultrasound we found out there was something wrong with his heart. We were referred to the Heart Centre for Children where an antenatal diagnosis was made of hypo-plastic right ventricle and pulmonary stenosis.
On 30th March 2015 (at 37w 5d), Chase was born at Westmead Hospital. He was induced when an ultrasound detected that the fluid around his heart had increased to an alarming volume. Chase was stabilised at birth, and within the hour transferred to The Children's Hospital at Westmead. Here, cardiologists performed an ECG which confirmed the antenatal diagnosis.
On Day 2, Chase went into the Cath Lab for a procedure on his heart. There were complications and Chase was rushed to theatre to have emergency open heart by-pass surgery. The surgery was successful. However, three days later Chase showed signs of distress and he began to swell up with excess fluid. Doctors decided to take Chase back to surgery to drain the fluid around his heart, and he returned to the Paediatric ICU with his chest open. Three days later Chase returned to theatre where his chest was cleaned again and closed.
When Chase was one month old, he started to deteriorate again. It was so hard to see our baby like that. The cardiologists discovered that there was a serious problem with the pressure in the right ventricle of his heart. He urgently required another surgery. This surgery took 4.5 hours and required the skill set of three cardiologists and surgeons, and their teams.
During surgery, the doctors undertook a procedure to try and balance the pressure in his heart. This procedure required the assistance of the neurological team because Chase was the smallest patient they had ever tried this procedure on, and the tools normally used were too big for Chase's little heart (which was the size of a walnut).
This surgery was a turning point for Chase and in the next few days we witnessed Chase's first smile. We also celebrated a significant milestone when Chase turned 100 days old (all spent in intensive care). He even got to go outside where, for the first time in his life, he saw the sun shining.
12 days later Chase left PICU and made it to the Edgar Stephen Ward. Shortly after that, after more than 4 months in hospital we were finally able to bring Chase home. At home Chase thrived and started to put on the weight needed to make him stronger for his next surgery.
The day before Chase's 1st birthday he had another major open heart surgery (the Glenn Shunt). We had a birthday celebration for him in PICU with all the nurses and doctors. He recovered quickly from this surgery and was only in hospital for 6 days!
Since the Glenn Surgery we have seen a vast improvement in Chase's colour, energy levels and weight gain. He is showing signs of wanting to crawl and shuffles to reach his favourite toys. We love him to pieces!