Posted by Kylie Flament on 9 September 2013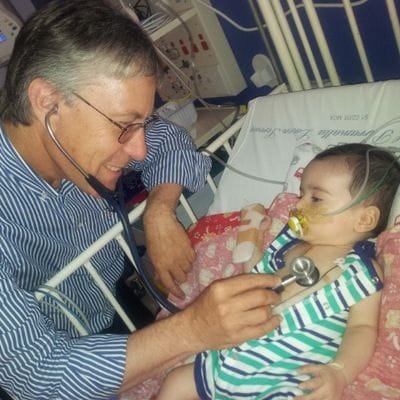 Carol Caleo and her family are doing an incredible job of organising the Echo Gala Dinner that will be held in the Sofitel Grand Ballroom this Friday night. Her story made it into the local papers over the weekend, telling how she first came to know of the Heart Centre for Children (although it was called differently then) when her brother was diagnosed with a heart condition in the 1950's. Sadly, he passed away in hospital all those years ago, but Carol's father and now Carol and her husband and sons are doing a lot to make sure that we have the best possible tools to help children like Carol's brother into the future.
If you're interested in grabbing a last-minute ticket to Friday's extravaganza, please head to www.echogaladinner.com.
Photo: Dr Steve Cooper with little Jimmy, one of the patients whose parents will be attending the gala dinner.

Author:
Kylie Flament
About: As the manager of the Heart Centre for Children, Kylie is engaged in all sorts of activities to help us deliver excellent care for patients and families through fundraising, managing our finances, hiring good staff and keeping communication flowing.
Connect via:
LinkedIn