Posted by Kylie Flament on 16 May 2013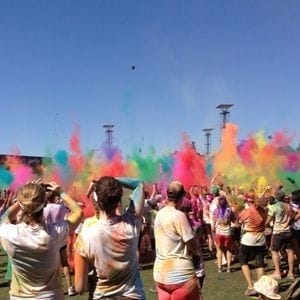 On Sunday 25 August, a team will be running, walking or crawling the 5km Color Run course while dodging colour bombs being thrown at us. You start the event decked out in white and you're lucky if you can find an unblemished spot on yourself at the end of it.
We welcome anyone who would like to join our team to do so by signing up at http://thecolorrun.com/australia/sydney/ - our team name is Heart Centre for Children. It should be a fun day out for adults and children, and a nice way to meet some of the staff that look after everyone at the Heart Centre. Feel free to give me a call on (02) 9845 2326 if you would like to know more or are thinking about coming along.
We will also be fundraising for some much-needed equipment. Every little bit helps! Click here to make a donation.

Author:
Kylie Flament
About: As the manager of the Heart Centre for Children, Kylie is engaged in all sorts of activities to help us deliver excellent care for patients and families through fundraising, managing our finances, hiring good staff and keeping communication flowing.
Connect via:
LinkedIn