Posted by Kylie Flament on 25 March 2015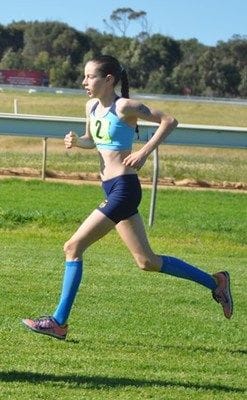 We are always delighted to hear from patients and families about how they're doing, and loved getting this letter from Kaitlyn's parents recently (along with some photos of Kaitlyn competing at the Athletics Australia Youth Championships, finishing 6th in Australia for several of the under-14's events!). Kaitlyn was born with Transposition of the Great Arteries and had an arterial switch when she was younger, and has gone on to become an incredible athlete. As her parents said to us: "We are very proud of her. Apart from her athletics, cross country she enjoys touch footy, netball, water skiing, camping and being a kid."
The letter from Kaitlyn's parents said:
Dear Dr Sholler,
Just thought we would share Kaitlyn's recent news with you. Kaitlyn is now in Year 6 at primary school and is enjoying life, and in particular her sports and running.
Kaitlyn competed in the All Schools 3km Cross Country at Eastern Creek in July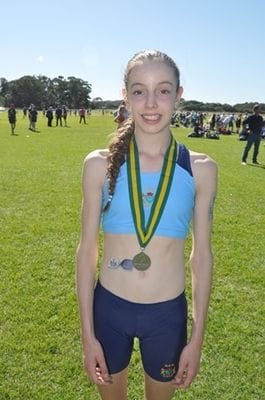 where she finished 5th in the State. She went on to represent NSW at All Schools Nationals in Albany, Western Australia, where she finished 18th in Australia and the team from NSW finished 3rd overall receiving a bronze medal. The relay event was also held 2 days later which was a 4 x 15-- relay where Team NSW finished 2nd. It was great experience for her to represent at that level and exciting to bring home two medals.
See you next year.
Thanks.
A huge congratulations to Kaitlyn from everyone at the Heart Centre for Children. We look forward to hearing more about your achievements over the next few years!

Author:
Kylie Flament
About: As the manager of the Heart Centre for Children, Kylie is engaged in all sorts of activities to help us deliver excellent care for patients and families through fundraising, managing our finances, hiring good staff and keeping communication flowing.
Connect via:
LinkedIn