Heart Centre team named 'Perfusion Unit of the Year 2012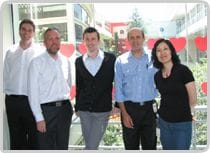 Each year, perfusionists from Australia, New Zealand and beyond gather for their Annual Scientific Meeting. This year the 29th Annual Scientific Meeting of the Australia and New Zealand College of Perfusionists got together at the iconic Australian landmark, Uluru.
This conference incorporated active participation and knowledge from many professional disciplines involved both directly and indirectly in the provision of cardiac surgery and extra-corporeal circulation for both adults and children. This year's program involved presentations from perfusionists, cardiac surgeons, cardiologists, cardiac anaesthetists, researchers and academics.
The scientific program included input from three leading international speakers who delivered landmark lectures on subjects pertaining to techniques and technologies surrounding the provision of cardiopulmonary bypass. In addition to the three landmark lecturers, the Scientific Committee assembled a truly remarkable group of local speakers, which, in conjunction with the submitted papers for presentation, resulted in an exceptional and memorable meeting program.
Uluru is a landmark recognised around the world as uniquely representative of the Australian outback. The "Rock" certainly created an exceptionally stunning backdrop to this year's Annual Scientific Meeting, particularly for the phenomenal social functions. It was at one of these social functions that the Heart Centre for Children Perfusion team picked up their award. Each year a perfusion department is recognised for providing an outstanding contribution to the field of Perfusion. Our team were recognised this year for multiple reasons including conveying this year's meeting, assisting in organising the scientific content for the meeting, having on staff two members of the Executive of the College of Perfusionists, and having not only the editor but also two sub-editors of the College of Perfusionists publication as a part of their team.
Whilst Hayden, Killian and Martin were fortunate enough to be in Uluru to receive the award, recognition must also go to John, Jenny and Kate who were holding the fort back in Sydney.