Thank you, Australian Islamic Mission!
Posted by Kylie Flament on 15 April 2015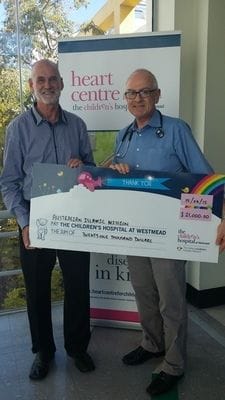 A very big thank you to the Australian Islamic Mission who organised a bike ride from Katoomba to The Children's Hospital at Westmead earlier this year and raised a whopping $21,000! The money is being put towards the Heart Lung Machine we need to enable us to perform life-saving surgeries on our tiny patients, so it will make a very big difference to many lives. A/Prof Gary Sholler (pictured right) was delighted to have an opportunity to thank Sadiq (left) from the AIM in person earlier today.

Author:
Kylie Flament
About: As the manager of the Heart Centre for Children, Kylie is engaged in all sorts of activities to help us deliver excellent care for patients and families through fundraising, managing our finances, hiring good staff and keeping communication flowing.
Connect via:
LinkedIn