Posted by Kylie Flament on 19 June 2013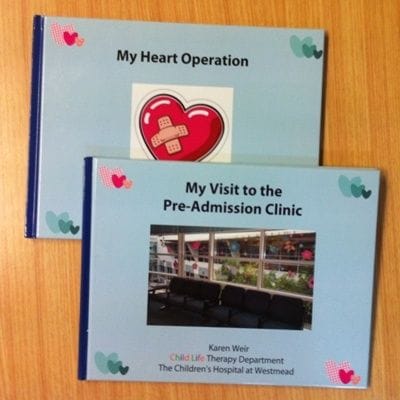 Parents often ask us where they can find patient stories and resources to help their children to understand what is happening, so for the past year we have been working on some books that follow the journey of a patient at the Heart Centre for Children. With the amazing work that Karen Weir from the Child Life Therapy department at The Children's Hospital at Westmead has done, combined with the generosity of young Ellis and his parents, Rick and Maria Vermunt who allowed us to photograph and write about Ellis' journey, we have made two such books at long last.
'My Visit to the Pre-Admission Clinic' follows Ellis as he comes in for his pre-surgery check-ups, including a blood test and meeting with an anaesthetist. 'My Heart Operation' follows him on his day of surgery, from being admitted to going to sleep just outside the operating theatre and what happens when he wakes up again.
Thanks to Rick and Maria we have eight copies of each available at The Heart Centre for Children. We are currently sourcing a printer or other sponsor who can help to bring the costs of printing these books down so that we can offer them to parents at a manageable price. We intend to make them available for purchase at the Heart Centre for Children, at the CHW bookshop and online.
If you or someone you know might be interested in helping us to print more of these great books for kids, please do not hesitate to contact us or call the Business Manager on (02) 9845 2326.
Thank you again to brave little Ellis, to Rick and Maria for their support and generous provision of the first books, and to Karen Weir for her tireless efforts in putting these together, as well as to many members of the Heart Centre team who made edits and suggestions along the way!