Posted by Kylie Flament on 12 August 2013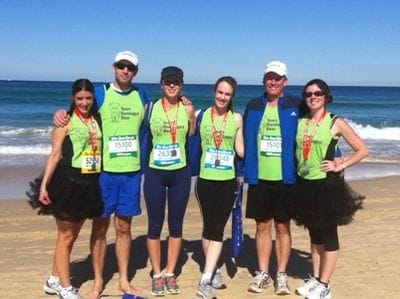 The sun was shining, birds were chirping and our six-strong City2Surf team made their way (with 85,000 of our closest friends) from Hyde Park to Bondi Beach yesterday in no time. Phil and Charles sprinted to the finish, Lexi and Michelle followed soon after, and Nadine and I meandered our way to join them in our own good time as runners we are not. We had a wonderful day though, a very warm welcome at the Bandaged Bear tent, and the satisfaction of knowing that with your support we raised almost $3,000 for the Heart Centre for Children.
So thank you to all of our generous donors, and we hope to see some of you on the BB team next year!
Photo: City2Surf team 2013 (from left to right: Nadine, Phil, Lexi, Michelle, Charles and Kylie)
We apologise for this photo appearing upside-down if you're looking at this page on a mobile device and are trying to fix it. if there are any tech-savvy people out there who know what to do, please call me on (02) 9845 2326. Thanks!

Author:
Kylie Flament
About: As the manager of the Heart Centre for Children, Kylie is engaged in all sorts of activities to help us deliver excellent care for patients and families through fundraising, managing our finances, hiring good staff and keeping communication flowing.
Connect via:
LinkedIn