Posted by Kylie Flament on 9 April 2014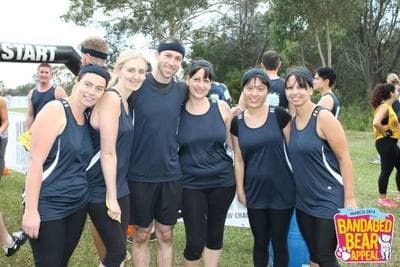 The Heart Centre for Children entered a team in the inaugural Grin and Bear It challenge, in conjunction with Raw Challenge. Six kilometres of mud and obstacles lay between us and the celebration breakfast at the finish line, and the team did amazingly well. Not only did we all complete the course, but we did it while pushing prams through the first two kilometres, carrying weights through other parts, dragging tyres, swimming through ice-filled mud pits, crawling up tunnels, and more besides. We know that this is nothing compared to what some of our young patients endure, and were happy to raise over $2,000 towards new equipment for the department.
Thank you to everyone who supported us (and to the Mum of one of our patients, Rachel, who came to cheer us on and take photos!). Photos are available on the Bandaged Bear Facebook page.

Author:
Kylie Flament
About: As the manager of the Heart Centre for Children, Kylie is engaged in all sorts of activities to help us deliver excellent care for patients and families through fundraising, managing our finances, hiring good staff and keeping communication flowing.
Connect via:
LinkedIn