Posted by Kylie Flament on 20 December 2013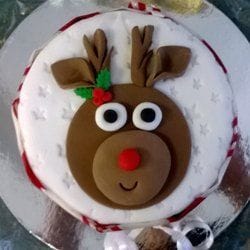 Wishing all of our patients, families, staff, supporters and visitors a very safe and happy festive season. Thank you to Rachael who baked these amazing cakes for us recently - you spoil us! And thank you to Precious Hearts who have once again put up a beautiful Christmas tree and surrounded it with gifts for patients who will be with us on Christmas Day. No one wants to spend Christmas in hospital, but it is thanks to kind and generous people like you that it is made just that little bit easier.
Thank you to everyone for your support of the Heart Centre this year. It has been a busy one, with lots of good news, groundbreaking research and great new equipment. Very best wishes from the whole team here.

Author:
Kylie Flament
About: As the manager of the Heart Centre for Children, Kylie is engaged in all sorts of activities to help us deliver excellent care for patients and families through fundraising, managing our finances, hiring good staff and keeping communication flowing.
Connect via:
LinkedIn