Posted by Kylie Flament on 16 September 2014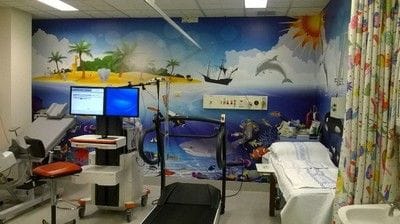 Welcome to our new exercise stress lab!
Thanks to the generous contributions of Dr KC Lau (one of our retiring cardiologists), the wonderful organisers of the Soccer Marathon earlier this month (who purchased the treadmill component), and VFX (who donated the outstanding new wall mural, which took several hours to put up), our exercise stress lab is now one of the best in the world.
The treadmill and ergometer (a sort of reclining bicycle) are used to uncover abnormal heart rhythms and symptoms such as chest pain that sometimes only show up during exercise. Our old system had been in use for more than 11 years and we could no longer find spare parts for it, so we needed new equipment quickly, and these incredible donors allowed us to do that (and brightened the place up with some great art that was put together by Adrian Paraska, one of our physiologists).
Thank you to everyone who contributed to this vital equipment and lovely new room.
We hope to decorate some of our other clinic rooms in a similar way and are looking for donors and/or artists to support this. If you or someone you know can help, please do not hesitate to contact us.

Author:
Kylie Flament
About: As the manager of the Heart Centre for Children, Kylie is engaged in all sorts of activities to help us deliver excellent care for patients and families through fundraising, managing our finances, hiring good staff and keeping communication flowing.
Connect via:
LinkedIn