Charlie's donor heart valve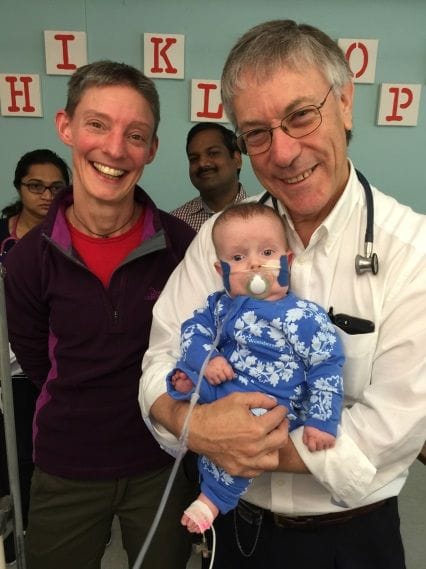 Written by Charlie's mother, Melissa, in 2016
We found out at Charlie's 20 weeks scan that he would have complex Congenital Heart Disease (CHD) and a genetic disorder called Velo Facial Cardio Syndrome (VCFS) requiring monitoring and possible treatment at birth. VCFS results in a combination of medical problems that varies from child to child. As the pregnancy progressed, Charlie's doctors were also not able to see any signs that he had pulmonary (lung) arteries.
Four weeks before Charlie was due to be born, my husband, two children and I had to temporarily relocate from Canberra to Sydney. The reason for our move was so that Charlie's care at birth could be taken over by the Heart Centre for Children and the Grace Centre for Newborn Care at The Children's Hospital at Westmead.
On 10 November 2015, our son Charlie was born. The doctors confirmed that he had complex CHD including pulmonary atresia, a large VSD and collateral arteries - he was born without a heart valve and without the normal connection between his heart and lungs. Without surgeries and intervention a baby with Charlie's condition has a life expectancy of less than a year.
Little Charlie has been through more challenges in his 6 months of life than most will ever know. He's had emergency helicopter and plane rides, a stroke, two open heart surgeries, a cardiac catheter lab and countless other procedures. He's spent more of his life in hospital than at home.
His life has been saved a number of times by a team of cardiologists and surgeons at the Heart Centre for Children.
Recently, Charlie had his second open heart surgery. As part of that surgery, he received a tiny heart valve from an anonymous donor. We have since learnt that this donor valve came from a beautiful 9 month old girl named Cailee (both families wanted to know this information). Like Charlie, Cailee had spent most of her life under the care of the doctors at The Children's Hospital at Westmead. Unfortunately, things got too difficult for Cailee and, after having huge cuddles with her amazing parents, she grew her angel wings on 29 February 2016 – on that special day that doesn't even exist in most years. As she did this, she left behind for Charlie the ultimate gift – a 1cm heart valve to help save his life and keep him here with us. We will think about and treasure Cailee every single day.
Charlie now has the opportunity to live life to its fullest with his family back in Canberra. There isn't a day where he doesn't change the world around him with his smiles, giggles and larger than life personality.