Max's Tetralogy of Fallot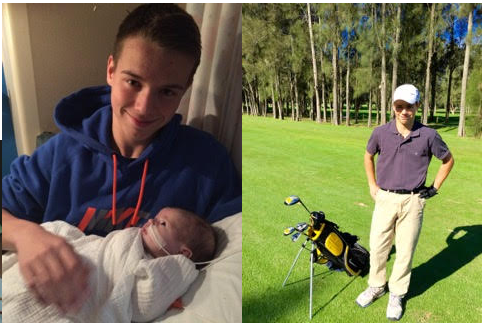 Written by his father, Michael, in 2016
It was 15 September 2000, the day of the opening ceremony of the Sydney Olympics. My then partner and I had a scheduled routine ultrasound at the 20 day gestation mark. The mood was buoyant and we were excited to get a glimpse of our impending bundle of joy.
That excitement dramatically changed when we were told our baby had an abnormal heart. They couldn't tell us what exactly at that point but we would need to see a specialist the following week.
After a terrible wait we were told our child had Tetralogy of Fallot. This meant that our baby's heart had formed but with significant abnormalities. Essentially, he had all the parts but they were in the wrong place and it would need to be fixed surgically if he was to survive.
We had to change hospitals for the birth as we would need to have infant ICU facilities as he was likely to be underweight and blue (cyanotic or short of oxygen). To our surprise and delight at the birth, our baby boy Max was big and pink.
Max managed to get by for the first few months of life without too much difficulty but at the age of 4 months he was admitted to The Children's Hospital at Westmead for major heart surgery.
The surgery was a success and after two weeks recovering in the Edgar Stephen ward, he was right to come home, repaired and with a cool scar to show for his troubles.
Max would go on to have a relatively normal childhood. Cheeky and playful he was like any other child. He went to childcare and was extremely sociable. His progress was supervised with 6 monthly visits to his cardiologist.
When Max was 4 years old, his cardiologist was not happy with the development of his pulmonary artery and the valve that connected to the heart. We went back to Westmead for a heart catheter where they ballooned the artery to stretch it larger. This seemed to do the trick and with yearly reviews by his cardiologist Max has needed no further surgery or medication.
He is now a precocious 15 year old with all the challenges of any teenager. While he was devastated to have to give up soccer at 14, he remains active with sport and is a keen cricketer and golfer. Max has recently been selected to represent the northern beaches regional cricket team.
So while Max's beginnings were very difficult for us all, he has gone on to recover and exceed all our expectations. Apart from the cool 'zipper' scar no one would know of the journey he endured in those early days. Max now acts as a role model for his young brother Louie who also has a form of congenital heart disease, called tricuspid atresia.