Posted by Kylie Flament on 26 August 2013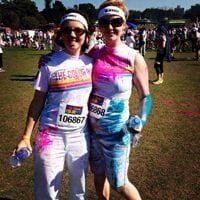 Ten white-clad staff and supporters of the Heart Centre for Children were in Centennial Park first thing Sunday morning in the glorious sunshine with 20,000 others. After a few mexican waves, cheers and roars we raced down the 5km track, straight into the Blue Zone where we were squirted with blue chalk, then on to Mellow Yellow, the Orange Zone, the Pink Zone and finally over the finish line, laughing and cheering.
It was a fun morning out that raised some money for the Heart Centre and had us all grinning. It was great to see some of our patients and their families there too. We're already looking forward to the next one!
Photo: Olivia and I after the race and before the colour fight began